The Housing Choice Voucher Program (formerly Section 8) provides tenant-based assistance, in the form of a voucher, to low-income families, seniors and persons with disabilities for rental units chosen by the tenant in the private market. The Housing Authority provides payments directly to participating property owners to offset the cost difference between tenant payments and unit rent. Residents in HHA Public Housing communities may also be eligible for voucher assistance through the HHA Family Self-Sufficiency Program.
Program applicants choose from a variety of housing options, ranging from apartments, duplexes, single-family homes to townhomes. Tenants can find available units by visiting Socialserve and MyApartmentMap.
In order to assist you with your housing decision, we have provided a link to the City of Houston Super Neighborhood page. There you can find information regarding demographics, land use and other useful information to help you make the best choice possible for you and your family. Below is a map that shows where each neighborhood is located. Click here to learn more about super neighborhoods and to view the recognized list of super neighborhoods.
Families with vouchers generally pay between 30 to 40 percent of their annual income for rent. Rent must be reasonable compared with similar unassisted units in the area, and the property must meet HUD's Section 8 Housing Quality Standards. All Section 8 program rules and policies can be found in the Administrative Plan.
Current participants in the Housing Choice Voucher and Public Housing Program may choose to participate in the Housing Authority's Family Self Sufficiency Program, which offers employment and other case-managed services designed to promote economic self-sufficiency.
Services offered through the FSS Program may range from job training to child-care and transportation assistance. FSS participants may also take advantage of homeownership counseling, including the establishment of a family escrow account.
For your convenience, we have made some common housing forms available for your use. Click here to view or download the forms.
City Of Houston Super Neighborhoods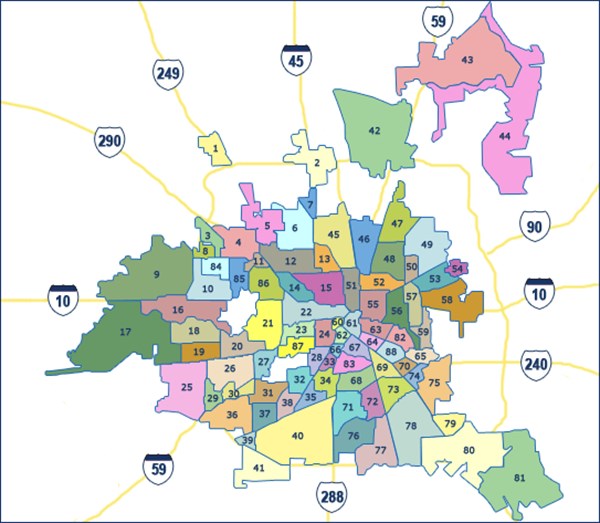 Houston Housing Authority is not currently accepting applications for the Housing Choice Voucher program.
Report Fraud – Fraud Hotline 713.260.0724
The Housing Authority is committed to protecting the integrity of the housing programs that we administer and ensuring that benefits are received only by eligible households and participating owners in accordance with federal regulations.
If you have reason to believe that any fraudulent activity is taking place in connection with any of the agency's housing programs, we ask that you promptly bring the matter to our attention. You can report fraud anonymously.
What is fraud?
Fraud involves false statements, omissions, or actions made with the intent to deceive or mislead, resulting in funds being misused or program rules violated or circumvented
Examples of  owner fraud include:
Offering bribes to Housing Authority employees.
Accepting housing assistance payments for properties that one does not own or represent as the legal agent.
Accepting housing assistance payments for vacant apartments/homes.
Requesting rent payments from tenants in excess of the amount stated in the lease.
Renting to relatives without prior approval from the Housing Authority.
Examples of voucher holder or  resident fraud include:
Not reporting income or total amount of income.
Subletting a subsidized apartment/home.
Having a voucher issued by the Housing Authority and another agency/owner.
Allowing people not on the lease to live in the apartment.
How to report housing fraud:
Please be specific regarding the problems you have seen and provide as much information as possible, including the persons you suspect of committing fraud, where they live (if known), and when the alleged incident occurred.
These are the ways to report suspected fraud:
Call our Fraud Hotline at 713.260.0724
Email allegations to fraud@housingforhouston.com
Fax the information to us at 713.260.0828 to the attention of Fraud/Compliance
Mail written allegations of fraud to:
Houston Housing Authority
Attn: Fraud/Compliance
2640 Fountainview Drive,
Houston, TX 77057